Brokers - Contact Broker Dealers Today!

Looking for a new broker dealer, but want complete confidentiality?
Want to find broker dealers, in the shortest time possible?
Want to clear through a certain firm?
Need a broker dealer who accepts associate or independent RIA's?

Need something else, we can help, call us Today!


OR

Brokers view more information about our services here
OSJ Groups & Large Producers we can help you find Broker Dealers that fits your needs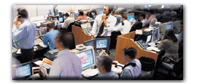 If the annual commission production of your OSJ Group or personal production is in excess of $1,000,000 annually BrokersBullpen has developed special procedures to help you in your search for new broker dealers.
OSJ's & Large Producers see why you should use us
when choosing a new broker dealer

Read more detailed information here about our special procedures for OSJ Groups & Large Producers
OR

Broker Dealers - Start Receving Qualified Leads of New Brokers or OSJ Groups
Broker Dealers, take advantage of Brokersbullpen to find your ideal pre-qualified candidate. Start contacting brokers within minutes instead of the usual timeframe of days. Brokersbullpen is not a job board but a traditional recruiting firm that keeps contact with its clientele daily until they are hired. The brokers in our system are not just names but people willing to move within 22 to 30 days in most cases. They also are currently producing brokers that have been in the business 2+ years and already have a book. We also cater to OSJ Groups in excess of $1,000,000 annually and specifically place them with brokers dealers that can meet their needs.